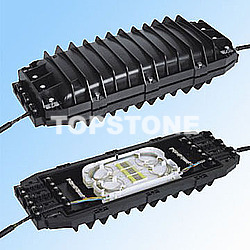 FEATURES
6 regular cable ports; apply to cable direct transmission and branching connection.
It solves the universal problem, could be used for different sizes of cables; and could be used for both single core and ribbon fibers; apply to direct buried, aerial, pipe-lined applications.
Triple fixing deign of cable meet the requirement of cable tensile and torsion performance efficiently.
Reasonable bracket design brings adequate space for storage of spare fibers.
Adopt high grade imported material to ensure long lifetime.
Remark:Please refer to the instruction manual for the detailed components
□
Standard accessories
GPJ09H6-B box 1 set,sealing gasket 1 set,splice tray 1 set,cable fixing device 1set,aerial mounting hook 1 set, splice protective sleeve,nylon tie 12 pieces,shield 1 piece,wet tissue 1 bag,plastic plug 4 pieces, insulating tape 1 roll
□
Optional accessories
Grounding device 1 set, valve 1set,pipe-lined hook 1 set,hexagonal sleeve 1 piece,grounding wire for armor layer 6 pieces, protective tube
Type
Fibers/Tray
Max capacity(F)
Suitable Dia of cable
(in)
Sealing structure
Weight/unit
(Kg)
Size of CTN(in)
GPJ09H6-B
36
180(single core)
Middle port:Φ0.63~Φ0.98
Two sides ports:Φ0.35~Φ0.71

In-line mechanical sealing

4.8~5.5
25.98x22.83x19.49
(4 pieces)