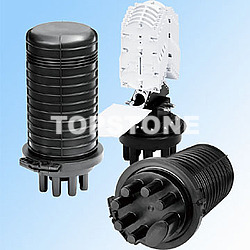 FEATURES
The sealing device of the closure adopts self-impacted hoop. The closure will be sealed perfectly while the hoop fastened.
It solves the universal problem, could be used for different sizes of cables; and could be used for both single core and ribbon fibers; apply to aerial, pole-mounting, and direct buried applications.
Adequate space for storage of fibers is enough for coiling of spare fibers.
Unique fixing device for splice trays ensures trays fixing and spare fibers coiling.
The special structure could simplify operation, which could meet the mechanical requirement and save invisible cost.
Adopt high grade imported material to ensure long lifetime.
| | |
| --- | --- |
| | |
| 7# splice tray | 8# splice tray |
Remark:Please refer to the instruction manual for the detailed components
□
Standard accessories
GPJ09L7-BR box 1 set,sealing gasket 1set, splice tray 1 set, cable fixing device 1 set,pole-mounting hoop 1 set,splice protective sleeve, nylon tie, sand paper,silver paper, insulating tape 1 roll

□
Optional accessories
Grounding device 1 set, valve 1 set, aerial mounting hoop 1 set,heat shrink sleeve(Φ65) 1 piece,heat shrink sleeve(Φ30) 6 pieces,slit clip 1 piece, grounding wire for armor layer 8 pieces, protective tube
Type
Fibers/Tray
Max capacity(F)
Suitable Dia of cable
(in)
Sealing structure
Weight/unit
(Kg)
Size of CTN(in)
GPJO9L7-BR
24
240

Small port:Φ0.31~Φ0.69
Big port:Φ0.31~Φ0.94

Dome type heat shrink sealing

5.15~5.8
22.44x19.69x20.08
(4 pieces)