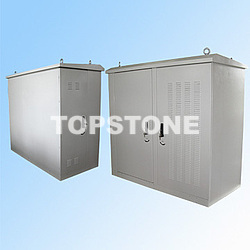 Product features:
Wireless communication base station, including a new generation of 3G system, communication/integrated services of network, access/transmission exchange station, emergency communication/transmission, which provide all-day protection with the features of sun block and proof of water condensation. The property conforms to IP65.
The cabinet adopts air aluminum framework and stainless steel of imports which suits field installation with convenient construction.
The cabinet with two-tier structure, between inner and outer is placed with the special specific material.
The space of wiring in the cabinet is enough big to make operation and maintenance convenient.
The structure is compact, the installation is simple and easy, the sealing performance is excellent.
It is the standard setting of 19" which apply to install varies of facilities of 19" type.
It has definite sectorization with dedicated battery compartment and auxiliary compartment.
The internal cabinet configures automatic control light which is in favor of maintenance and management in the night.
The internal cabinet configures power control box (including of surge protector) and power socket.
It configures special air condition of high-quality cabinet and dehumidifier.
As the selection match, the monitoring system can make the inside condition, power and access control under mornitoring and also make the function of long-distance open and close come true.
Model

Dimension
(H×W×D)

Standard configuration

MDF Valid installation space

Remarks

GMPX-MF17832
1700×1700×800
Valid cabinet height 32U
Interior line 800,exterior line 100